Dr C. Purna Chandra Rao is an Industrial Entrepreneur who has made notable contributions in the field of education. He founded Whitefield Global School, Whitfield Global PU college, Global Toddlers and The Valistus International School under Chalasani Education Trust as Founder-President.
As an Industrial Entrepreneur for the last 35 years, he focused on manufacturing telecommunication and power products supplied to ITI, BSNL, BEL, BHEL, ECIL and agricultural PVC and rigid plumbing pipes. Since 2008, he has diversified into the field of education by establishing renowned educational institutions.
He is an active member of various industrial and educational associations. Previously, he was the President of Whitefield Area Industries and Commerce Association and ITI Ancillary Industrial Association. In an effort to extend his social services, he joined the Rotary in 2001 as a member and became a Charter President of Rotary Whitefield Central.
He is also the Founder-President of Rotary Whitefield Central Trust. Over the years, he has taken various roles in Rotary International District 3190, Bangalore as Chairman for various committees, as District Assistant Governor and District Service Director. He has a Doctorate degree in management from Press Cot University, UK and a graduation degree in Commerce from Andhra University.
Dr G.N. Sekhar is an academician and researcher who has made notable contributions in the field of education and science. His research papers have been published in many internationally reputed journals.

Previously, he has worked as Professor at the BMS College of Engineering, Bangalore, He was a Research Fellow at the UGC-DSA Centre for Fluid Mechanics at the Central College, Bangalore University. Dr Sekhar has mentored and supervised seven research scholars to successful completion of their doctoral program.

He has taken charge of various responsibilities at Universities including member, VTU-LIC for scrutinising infrastructure of new colleges in 2007, member of BOS in Mathematics, VTU in 2006-10, member of the Ph.D. registration committee of VTU in 2006-07, member of BOE in Mathematics, B.U in 2005-07 and member of BOE in Mathematics, VTU in 2002-04.

Dr Sekhar has led the administrative and organisational responsibilities in various roles including Program Coordinator at BMSCE for Technical Education Quality Improvement Programme (TEQIP) Phase-2 in 2012-16, Vice-Principal at BMS College of Engineering in 2009-16, conceptualised PHASESHIFT - an annual event to exhibit student skills and competencies at BMSCE since 2015, Financial Nodal Officer at BMSCE for Technical Education Quality Improvement Programme (TEQIP) Phase-1 in 2005-08, Member-Secretary, BMSET Hostels in 1996-2009, Deputy Chief Coordinator, VTU-PG valuation in 1999 among others. He has also been the subject expert and member of staff selection committees at RVCE, PESIT, New Horizon College of Engineering, Oxford College of Engineering, NIE-Mysore among many others.

He has attended the Leadership Development Programme held at National University of Singapore conducted by IIM, Raipur in September 2015, interaction meetings and study visits to European universities for collaborative research in October 2013, the tenth Melton Foundation Annual Symposium at Universidad De La Frontera, Chile in October 2001 and the ninth Melton Foundation Annual symposium at Zhejiang University, Hangzhou, China in August 2000.

He has also participated as a speaker at academic meetings and conferences including the 78th Session of ISCA held at Devi Ahilya Vishwavidyalaya in Indore in 1991 where he was invited to speak on Applications of Magnetic Fluids and a series of lectures at VTU-EDUSAT Programme in 2005 among others.

He was awarded the President of India Award for the best research paper at the 34th Annual Congress of Indian Society of Theoretical and Applied Mechanics (ISTAM) held at PSG College of Technology, Coimbatore in 1989. He was awarded the young Scientist Award of the Indian Science Congress Association for best research paper presented at the 77th session of the Indian Science Congress Association (ISCA) held at Cochin University of Science and Technology in 1990. Between 1999-2004, he was the Task Team Member of Melton Foundation at BMSCE. He was awarded the Vocational Excellence Award by Rotary Bangalore, Whitefield in 2006 and named the Paul Harris Fellow by the Rotary Foundation of Rotary International in 2015.

He is a life-member of many professional bodies including the Indian Society of Technical Education (ISTE), Indian Mathematical Society (IMS), Indian Society for Magnetic Fluid Research (ISMFR), Indian Society of Theoretical & Applied Mechanisms (ISTAM), and Indian Science Congress Association (ISCA).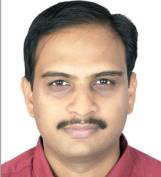 Mr. N. Ramu has more than thirty years of experience in the aviation sector. He has worked with VIF Airways, NEPC Airlines and Jet Airways among others.
With expertise in aircraft maintenance, Mr. N. Ramu has played an important role at various positions in the aviation sector. In his 21-year tenure with Jet Airways, he worked in various key roles as MCC Duty Manager, MCC Technical In-charge, Base Maintenance Manager and Manager of Technical Services.
In recent years, he has made notable contributions in the field of education.