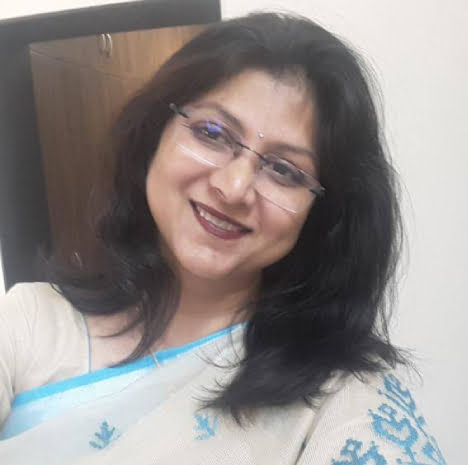 Dr. Sita Nanduri
Headmistress
---
With over 15 years of proficiency in early childhood and primary school instruction, Dr. Sita Nanduri is a well-informed, pragmatic educator and school leader. She has valuable practical experience in various roles and accomplishments while tutoring children of various age groups.
Dr Sita Nanduri is a Bachelor in Dental Surgery from University of Mumbai and also has a Bachelor's in Education. She also worked for the Department of Child and Foster Services, DuPage County, Illinois, USA.
She began her career in education with the Science department at a leading CBSE school, Deens Academy, since its inception in 2006 and quickly took on leadership roles which she held for over a decade in various branches of the school.
She has worked closely with its founding team to set up required infrastructure and resources for the science laboratories. She was instrumental in developing digital resources when this concept was being launched in the market. Her focus was on providing experiential learning with simple yet effective techniques. She also used this expertise in her brief stint as a Principal for an independent start up school where she set up systems and processes for its launch year.
She continues her research in modern pedagogical techniques and was actively involved in the training sessions conducted for teachers within and outside Deens Academy.
During a transitory pause in her career in education she worked as a Senior Business Consultant in Executive Leadership Coaching at Valluri Technology Accelorators Pvt. Ltd. As a leader of a process role, Dr Sita was the key coordinator in supporting the development of a software application for internal and external stakeholders.
Dr. Sita holds an International diploma for teachers and trainers from the prestigious Cambridge University. She has also completed the Teacher training program along with The HEAD LAMP training (for school leaders) conducted by The Teachers Training Foundation (Bangalore). She is also a trained Montessori facilitator.
Dr Sita's focus is to create a stimulus that encompasses all types of learning styles through a pedagogy that offers each learner the chance to engage in the manner that suits them best.
Along with engaging teenagers at home, Dr. Sita is a doting dog parent and maintains a modest garden in her free time.